This is the first interview of our newly created "Customer of the month" interview series.
We are happy to introduce Aitor Caballero Sevillano, Airport Operations Junior Manager from Palma de Mallorca Airport (PMI airport).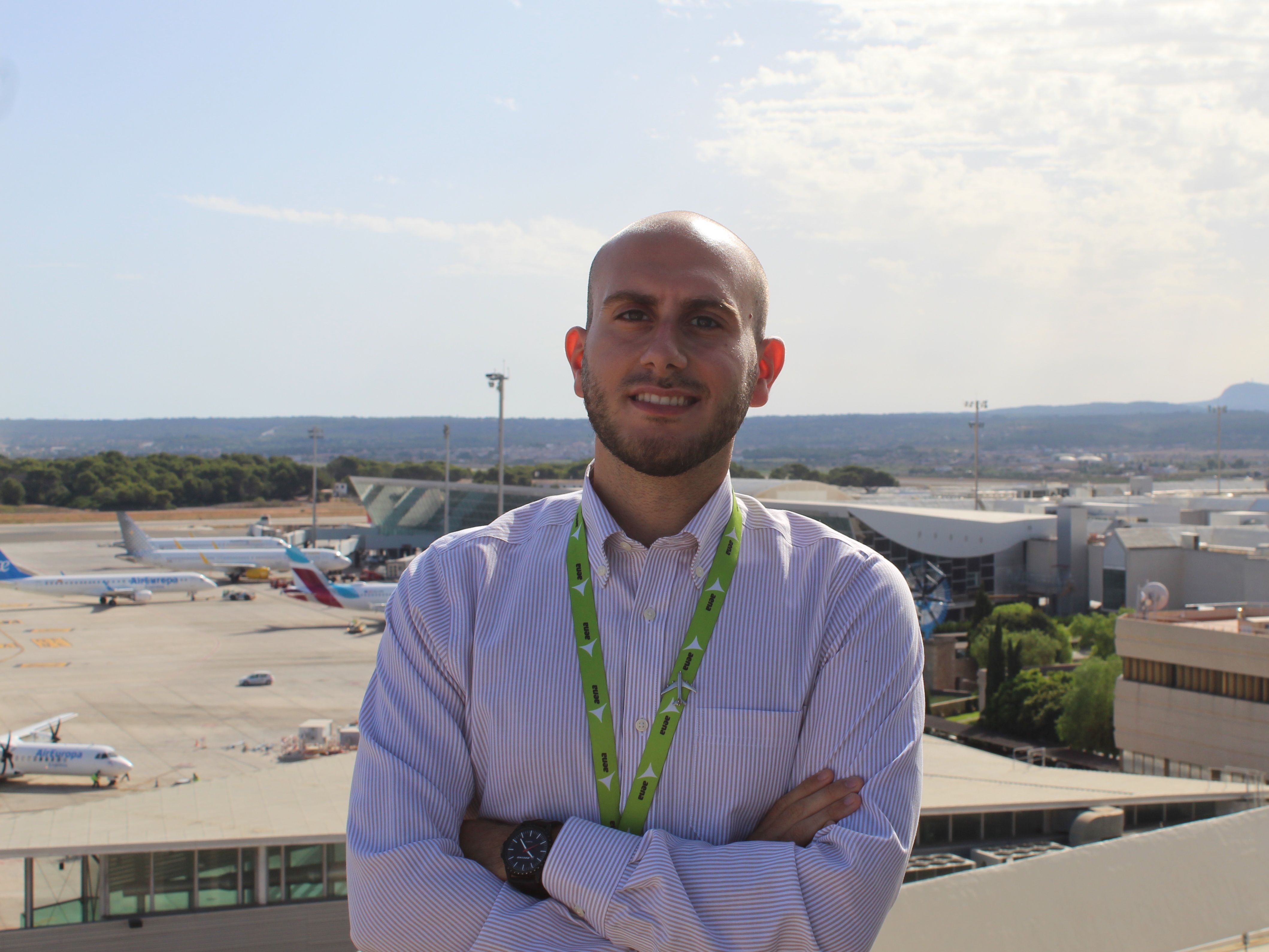 Can you describe your position / role in your company?
Currently I am working as Airport Operations Junior Manager at AENA, specifically in the Ground Operations Management Department at Palma de Mallorca Airport (PMI). Basically, my role consists in guaranteeing the quality standards in all the ground operations performed at the airport. I am also in charge of coordinating and managing the operational procedures from the Airport to Handlings. I consider myself very lucky to be part of such a committed, well organized and adaptive team. Also, their international perspective and innovative vision are key factors in today's changing environment.


What are the challenges your company is currently facing and which are you trying to solve?
In terms of Real Time Operations Management, main challenges for our company is to implement a sensor network in all the airport processes (passenger, baggage and aircraft processes, including the turnaround processes) that enables the Airport Manager and the rest of airport stakeholders to monitor (to receive information of) the progress of the different airport processes in real time, to compare that progress against the plan and, thus, to take mitigation actions to reduce any deviation from the plan. In that sense, Assaia's system may contribute to this challenge since it may be a very complete "sensor system" to monitor the turnaround processes. In short terms, this PoC (Proof of Concept) with Assaia is within AENA's strategic plan of Smart Operations Management.
What was the main reason for you to start working with Assaia?
Like in all sectors, adaptability and flexibility are the key to a consolidated growth. Assaia provides a solution using Artificial Intelligence that gathers data of the turnarounds in real time to understand what is happening and offers predictive analysis to better manage operations, so it would be an amazing tool for the Airport Operations Control Center to optimize the usage of the infrastructures. But not only would it be good for the airport, also for the handling companies because they will be able to manage possible issues during turnarounds thanks to Assaia's predictive analysis.
What is your vision for the future of the aviation industry? Can you describe how the future of the industry would look like if it was up to you?
Nowadays, due to coronavirus pandemic, our daily habits have changed, and so has the aviation industry. I hope for a quick recovery for the sector, because aviation brings the world together and it is essential for our current lifestyle. I am sure that aviation industry is going to change and I hope that this situation with the coronavirus will bring a change for the better. I cannot imagine the future without innovation, technology, sustainability and commitment to the environment and I think airlines, handlings, aircraft manufactures and airports have to work together to improve our industry and guarantee the best for our futures.
Can you describe the current stage of your collaboration with Assaia?
Currently we are working on a pilot project, we have 3 stands monitored by Assaia on the Terminal C at Palma de Mallorca Airport and we are eager to get the initial report and get the user Dashboard to analyze the results.
What do you think is important for other people in similar roles that are thinking about doing a similar project?
In my opinion, participating in these kinds of projects, in which two different companies share their knowledge and tools is always profitable for both parties because you can learn from each other and develop yourself professionally. I think it is the way to innovate and create new solutions in our industry.