FOD damage to aircraft is a major cost of doing business for airlines, costing them globally $4 billion per year.
This case study considers a European, medium sized, single runway airport which handled about 100,000 flights and 3 million passengers in 2019. The airport has 19 contact stands as well as remote handling facilities. The airport is well connected and handles a lot of traffic related to the offshore oil & gas industry.


 The airport has a long history of innovation and continuous improvement. In order to maximise capacity, improve on-time-performance (OTP), enhance safety and improve passenger experience, the airport is working on a digital twin project. In May of 2020, the airport approached Assaia as it became apparent that Assaia is the only source for high quality data concerning apron / airside operations. 


 One of the key business drivers for the digital twin initiative is to improve safety on the apron. As a direct result of the COVID crisis many airlines and ground handlers had to lay off staff. As traffic is returning, many companies are having difficulties rehiring staff and find themselves being understaffed and/or lacking experienced staff.
The airport has a Standard Operating Procedure (SOP) which describes several safety measures which ground handlers have to adhere to. The safety measure on which we will focus in this case study is the post-departure stand check. The goal of this check is to ensure that the stand area is clear of any GSE and/or Foreign Debris Objects (FOD) which could otherwise cause damage to the next aircraft using the same stand. Before the start of the project, we found that this check was not properly carried out for 60% of all departing flights.
FOD damage to aircraft is a major cost of doing business for airlines, costing them globally $4 billion per year. On average, 1 in 1,000 departures incurs ground damage with an average cost of $275,000.
The Setup
From July through September 2020, Assaia worked closely with both the airport and a third- party supplier of a digital twin platform to implement the ApronAI system. The existing camera infrastructure (one camera per stand) was used, which resulted in a fast and cost-efficient implementation.
The ApronAI software was deployed on an on-premise server. An integration with the airport's Airport Operational Database (AODB) was established and Assaia's API was connected to the digital twin platform.
Real Time Safety Alerts
During the implementation project, Assaia and the airport worked closely together to define the intended use of the ApronAI system. This kind of close collaboration is key to ensure that the software is properly configured. Even more importantly, the project partners took the time to prepare the organization and users for the change in their way of working once the tool was released.
One of the key use cases for the airport was to receive real-time alerts in case of deviations from standard operating procedures. These kinds of deviations lead to unsafe situations, and, in a worst case scenario, to incidents or accidents. The real-time detection of unsafe situations minimizes the chance of that happening. Thus, the ApronAI serves as a proactive safety management tool.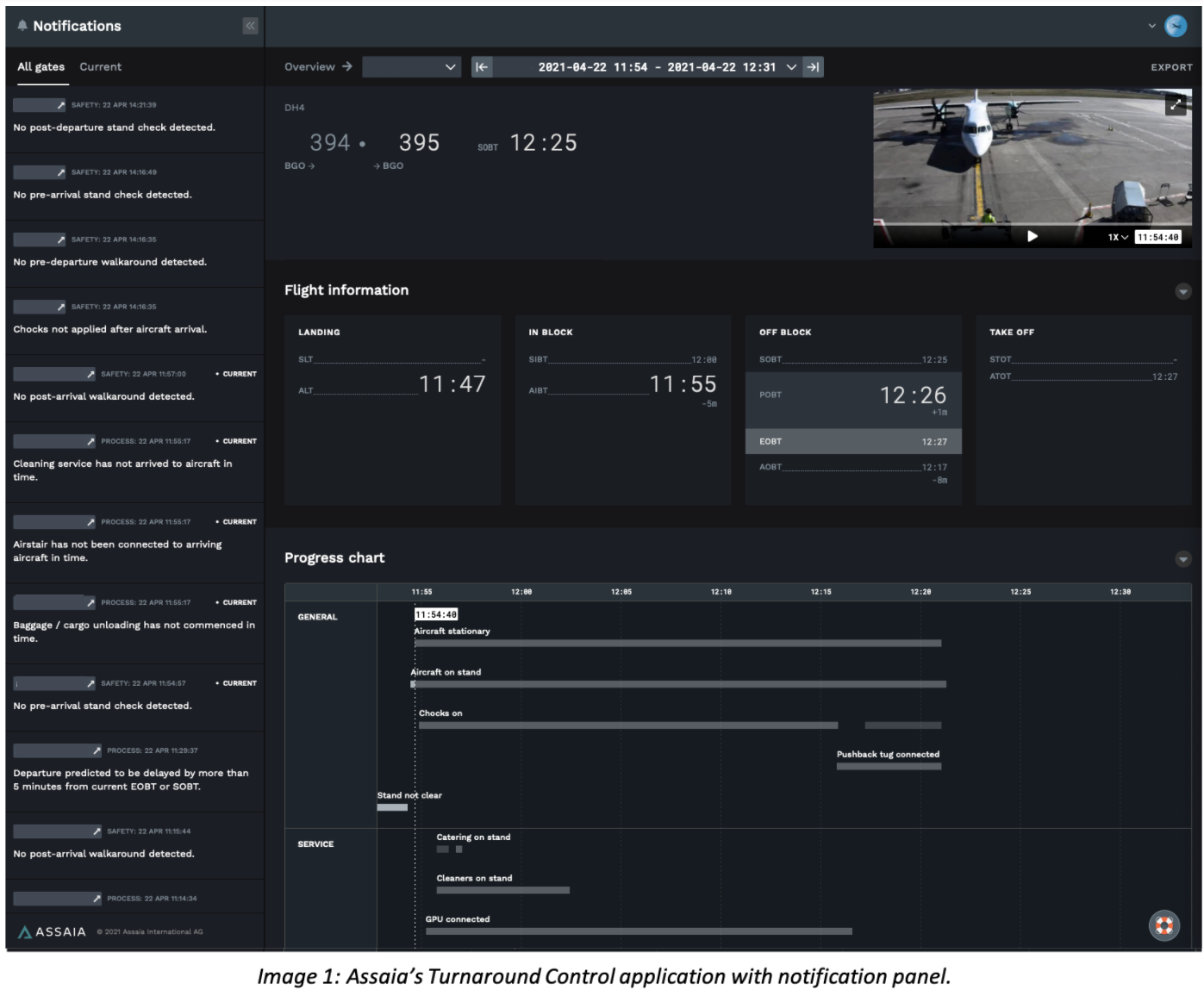 The Assaia TurnaroundControl application is used at the Airport Operations Centre (AOC) and is configured to show alerts in case of unsafe situations to the AOC operatives. Example situations include:
- Stand not clear for incoming aircraft
- Chocks not applied
- FOD checks not performed
- Aircraft walkarounds not performed
Once an alert is raised, the AOC operative calls the ground handler currently on the stand in order to take direct action and mitigate any potential risk. It is good to note that the objective is not to single out individuals' at-risk behaviour but to create awareness in order to drive change in future behaviour.
The Results
For this specific case, unsafe behaviour decreased by more than 50%.
In order to show the positive impact Assaia's ApronAI system has on the airport's safety record, we report on the number of occurrences of unsafe situations.
For the period between December 7, 2020 and April 11, 2021, we have observed a very significant decrease in the number of instances when this stand check was not performed (see graph above). The green line shows the percentage of flights for which this check was not performed while the blue line shows the moving average.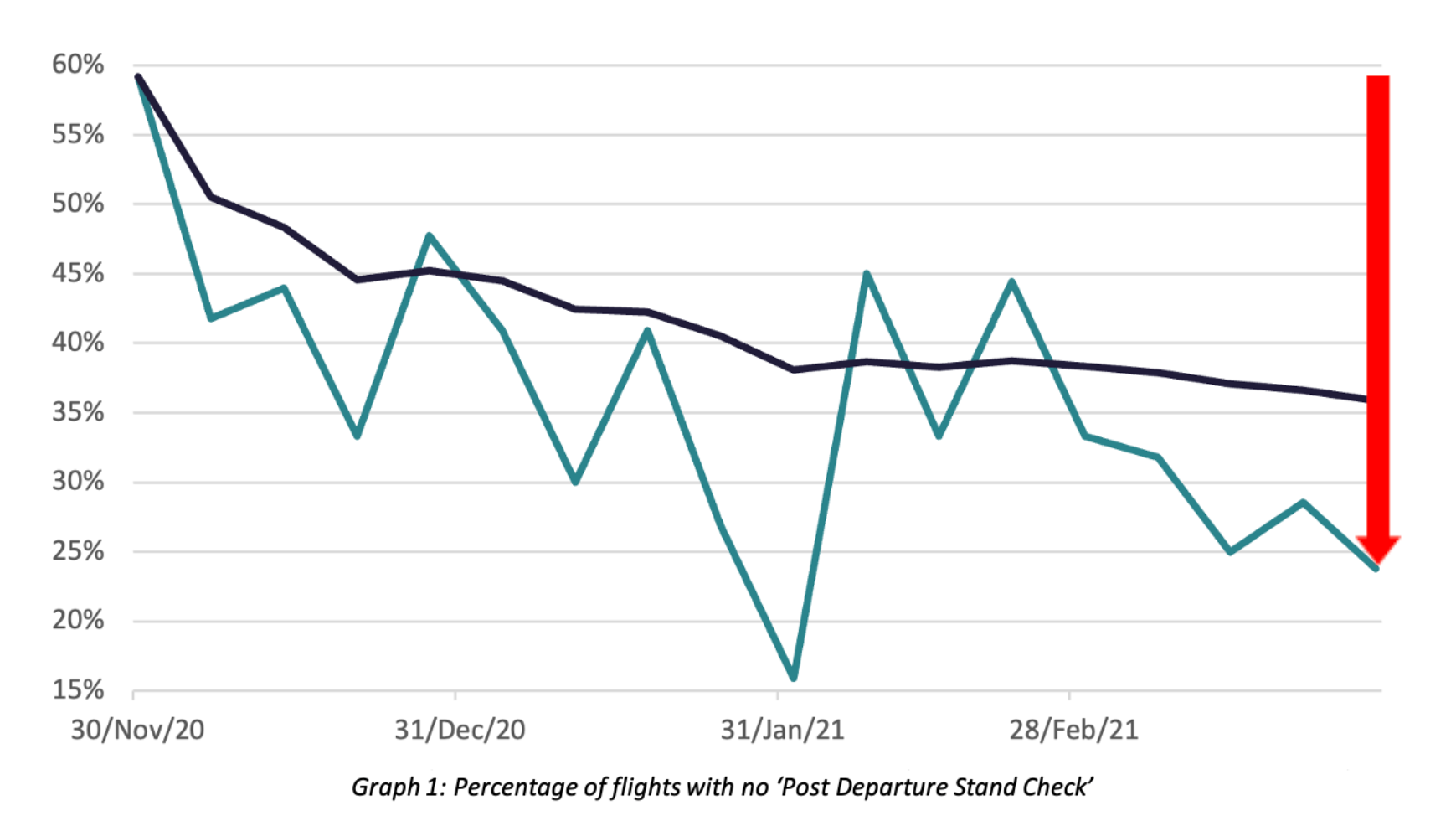 We can see that in the first week, the post departure stand check was not observed for nearly 60% of all flights. After deploying the ApronAI, this number trended downward and in the last week of the observation period, this check was not carried out for only 24% of flights. For this specific case, unsafe behaviour decreased by more than 50%.
According to the airport's Airside Compliance Manager, the results are very exciting.
"Such a significant decrease in unsafe behaviour is very hard to achieve otherwise. Having real-time visibility on compliance has allowed us to directly improve safety. Furthermore, the data has also helped us to find root causes for unsafe behaviour and take action based on these insights."
The Business Case
A 2008 study by Insight SRI for fodnews.com found that on average the cost of FOD damage is as much as $26 per flight. They also report that a FOD incident happens on average 12.8 times per 10,000 aircraft movements. If indeed proper post-departure stand checks can prevent these incidents from happening, the ApronAI enables staff to reduce FOD damages with $13 per flight.
An average airport has about 400,000 aircraft movements per year. These movements would thus include 40 FOD incidents costing a total of $10.4 million per year. By using the ApronAI system to improve the execution of post departure stand checks, for an airport this size, the savings would be $5.2 million per year.
If all airports around the world would have a system like ours in place and would be able to reduce FOD related incidents in the same way, it would save the entire industry more than $500 million every year again.
According to the airport's Head of Aerodrome Strategy, the collaboration with Assaia is a great success. 

"It has shown us that computer vision technology is a mature and production-ready technology for observing turnaround processes and SOP compliance. But, even more importantly, it has shown us that both real-time and historic data can be used to enhance safety in airside operations and save us millions of euros."
If you are eager to learn more about this particular case study or about different ways in which Assaia's ApronAI software can create value for your airport or airline contact us at info@assaia.com or via the website form.